For any sports activity, it becomes vital to have the right kind of gear to avoid the risk of damaging bones or any other part of the body. Whether one is training for MMA, Kickboxing, or Muay Thai, the best boxing mitts/pads act as a shield to protect from the toughest of the fights or training.
Are you in a hurry? Here are a few best brands based on the expert's opinion and choice right now.
These are the best boxing mitts/pads:
These best boxing hand pads or mitts come in many forms and varieties since boxing is no longer pursue as only a profession but as much like the fitness regime. Best boxing pads are commonly manufactured with leather, and in present times one gets to see many manufacturers supplying boxing mitts in the market.
List of Top 10 Best Boxing Mitts of 2022 – Reviews
Images
Boxing Pads
Rating
Price



Elite Boxing Focus Mitts



Synthetic Leather


Long Lasting


Maximum Comfort



Best For Large Hands




PAMASE Boxing Mitts



PU Leather Surface


Durable


Thick but lightweight hand pads






Cheerwing Punching Pads



PU Leather


Durable


High Potency Foam Padding



Amazon Choice




Sanabul Essential Mitts



Engineered Leather


Tested by Pros


Ultra Light Foam



Best for Beginners




Everlast Mantis Mitts



Synthetic Leather


Good for Beginners


Lightweight



Editor's Pick - Save 10%




RDX Boxing Mitts



Cow Hide Leather


Comfortable Fit


Supremo-Shock Foam Padding






Meister Focus Mitts



Cowhide Leather


Ultra Durable


Thick Padding of 2"



Best Lightweight




Pro Impact Focus Mitts



Synthetic Leather


Comfortable Fit


Padded up to 35%






Ringside Punch Mitts



Cowhide Leather


Double Hook & Loop Support


Foam Padded Finger Hood



Best for Small Hands




Fairtex Contoured Mitts



Leather Built


Ultra Light


Protective Fingerhood


Punching pads let you hit and relax and focus on how the motions are coming to you, how they look and feel, and what happens right before they attack you. During learning, they're helpful. Coaches use the best boxing mitt for training to assess their trainees and advise them. You can see how the trainee throws punches, time, and form and direct feedback and guidance to help the learner improve more quickly.
Let's have a look at some qualities of these best boxing mitts and pads;
Elite sports boxing mitts prepares with a curved styling and ultra-lightweight PU leather that is easy to clean and maintain. With shock absorbent density, these best boxing focus pads are armed with mesh panels that provide ventilation to keep hands cool and dry.
If you'd like to have capable punching pads which provide a boxer with an excellent punching surface and can still protect the holder from impact, these best boxing pads are for you. Their design is strong and powerful enough to hang on to punches, elbows and anything you choose to do. You can't fail to notice its curved nature, which gives better control over the shape of your hands.
The hook and loop closure fits any hand size and is completely adjustable. At a reasonable price and trendy color variety, the curved concave technology offers a superior surface for elbow strikes and hand movement.
Pros
Reliable and best for hard-punching
Unisex style, durable material, and sturdy Velcro strap
Cons
Hand location is not adjustable for small hands
Muay Thai Kick, Sparring, or Dojo; these best boxing hand mitts belong to the house of Pamase. The wear-resistant padding does not let your hands tire out after a grueling training session. The snug fit makes the boxing pads comfortable, breathable, and adjustable.
The best quality of PU leather offers a smooth and durable surface that is known for its abuse over the decades. Adjustable velcro straps ensure a not-so-tight fit. After practice, this removes the need to break for a while. Besides, Half ball palm grip provides better coverage and hold, so that extra protection is possible.
So, if the opponent hits your hand harder, the 1.5 moldings dense foam provides ample cushion for protection. The price is not heavy on the pocket and makes this product the best for all purposes!
Pros
Adjustable strap for your wrist
Strong nylon string makes it durable and long-lasting
Much lighter in weight
Cons
Half ball pad may need more adjustment
Cleaning care to avoid bad odor
Cheerwing boxing mitts have an ergonomic curve that enhances strike motion and makes these pads comfortable to hold. Whether its UFC, Karate, or MMA, these best boxing hand pads are meant for all kinds of training.
The ergonomic design allows the user to keep the pads securely with each strike without damaging their wrist or pad. With high-quality PU leather and high-powered foam, you can throw punch after punch and kick after kick without the pad warping, losing a form, or breaking away with the material.
With four-color combinations to choose from, these best boxing punch mitts are durable and lightweight with mesh panels that keep the hands aerated. At an economical cost, this can surely make way to the shopping cart!
Pros
Solid foam material for a good punch bounce
Protects wrists effectively from punches
Cons
Curved surface
Not much padding
Sanabul brings forth another great set of boxing mitts design in a way to make your boxing training routine thrilling, exciting, and fun. The Santec Ultra-Light Foam technology absorbs the impact of the punch without letting your hand feel the pain.
Also, It allows the coach to move fast and naturally so that the striker gets to a striking training more naturally and efficiently. Curved padding helps the striker to work more angles and effectively land various types of hits, instead of merely straight punches such as jabs and crosses.
These best boxing focus pads have been tested by UFC champions to ensure a safe experience for trainers. At a convenient cost and a Unisex style, these Sanbul essential boxing punching mitts are a must-try in the boxing ring!
Pros
Very Light and Cushioned
Breaks in easily and fits the natural shape of the hand
Performance engineered leather prevents cracking
Best for small hands as well
Cons
No palm padding
Striking surface is bit harder
Everlast Mantis Punch mitts are available with 100% vinyl material, which has three-layered foam support to provide protection and endurance. The curved design fits the natural shape of the hand and gives optimal hand motion.
This Everlast mitt has a net on the back of your hand and uses EverDri to absorb your hand's moisture and help you remain calm and fresh. Besides, Everlast EverGel allows for better absorption of the shock on the pad so that the shock is not solved by the trainer or even given back to the trainee's hands.
These best boxing mitts have been deemed suitable for any boxing training and are available at a reasonable cost.
Pros
Best for beginners
Budget friendly
Nice Padding
Protect well and stay on hands in same position
Cons
Non-adjustable strap
Little Flimsy
RDX boxing pads have made training for Karate, Martial Arts; Kickboxing is more thrilling and exhilarating. Available in authentic cowhide leather that has greater solidity and endurance for hooks, jabs, and uppercuts.
The inside of the mitt, where you carry it, and the outside of the mitt, where you hit it, are made of ultra-sustainable Maya hide. It improves the life of the mitts considerably, avoids the designs from being peeled, and helps to prevent the leather from cracking.
The three-layer integrated gel foam provides optimal impact and shock resistance. The price is not too high, and CoolX Mesh technology keeps the hands ventilated. Isn't that cool?
Pros
Quality construction and heavy-duty durability
Well ventilated
Real Leather
Great Price
Cons
Interior is bit scrtachy and gritty
Smaller Hands needs to use the velcro straps
Meister cowhide leather boxing mitts are built and designed to keep strikes balance, and thick padding ensures no harm to wrists after an intense training session. The balloon grip locks the hand adequately and does not let it slip away.
At an incredible cost, these best boxing pads are shock absorbent and ultra-durable. So if you are ready to jab, jab, and dunk, then these curved focus mitts will be the right gear for your workout bag.
Pros
Solid stitching and lightweight leather
The rounded area fits the palm for a tight hold
Excellent wrist support
Cons
Available only in the black color base
The snug fit may need a little more stretching
Pro Impact curved focus mitts come with a padded construction of 35%. Whether it's an energetic workout or an intense fight, these best focus mitts for boxing training are excellent for punching and defensive skills.
The genuine leather and curved design give the ultimate experience. This product is sweat-resistant and the ball in the center makes gripping comfortable. So carry these portable focus mitts anywhere and anytime!
Pros
Center white dot for accuracy and improved timing
Versatile focus mitts in four color combinations
Cons
May need a little time to break in for comfort
May look heavy on the outlook
You may also like to have the best boxing body protector to avoid any life-threatening injury that may end up your career. It is always better to take safety measures first then go ahead and have success in your life.
These best boxing mitts in heritage panther leather belong to the house of Ringside and have effectively owned up to the name in the world of boxing. They are a perfect size and ensure that the puncher, as well as the trainer, comes out of the boxing ring without any harm.
The comfortable but firm padding allows the pads to withstand and distribute the impact of the hits uniformly across the larger surface area, resulting in less suffering for both the pad holder and the striker.
The price quotient is quite reasonable, and the pad foam combination protects the wrist from any shock impact. So get ready for some jab, jab, and dunk!
Pros
Comfortable pads
Offer unparallel protection
Prevents impact on the wrist and elbows
Foam padded finger hold for a customized fit
Cons
Very lightweight (15 oz.)
Only available in one color
Fairtex contoured boxing focus mitts are considered best for MMA, Muay Thai or Karate. The soft hand compartment ensures that the wrist has ample support during the training.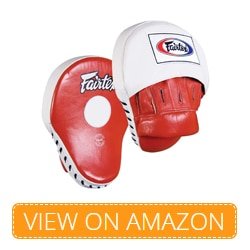 The leather construction is ultra-light and shock absorbent with a striking foam surface. The price may be on the higher end, but these best boxing focus mitts are a must in that super collection of boxing kits.
Pros
A unisex style that caters for all sport enthusiasts
Best mitts for small hands
Cons
May take some time break in the mitts
Not recommended for large hand structure
Best Boxing Pads / Mitts of 2022 [Buyer's Guide]
The buying process is often made to analyze the options available and lock cost that fits the budget. With so many variants of boxing mitts, one might wonder what to choose!
Let's look at some cautionary measures before we pay at the counter;
Price & Shipping Cost – Do compare the price and logistics cost of the product among the best available variants.
Material – You must have as comfy to carry as they are to hit the packs you have in mind. Many fabrics, such as leather, are thicker and more durable.
Strap closure – It helps to lock your hands so that they are not accessible to getaway. You can tighten the mitts according to your preferences with adjustable braces so that you have more control.
Ventilation – Choose a mesh or open finger pad to enable your fingers to respire and prevent sweat build-up. After using the pack for a while, it may lead to a stinky smell.
Refund & Warranty – If the product is not up to your agreement, avail of the return and replace the feature.
Bonus Qualities – Look out for advanced features that may have an additional cost but will be an experience on its own.
Conclusion:
It takes preservation and commitment to pursue any sporting activity, and when one makes up the mind to do it, it's worth the time and effort. Workout gear is like a shield that prevents mishaps during training or fights.
If you can't make up your mind, go for RDX Boxing Pads Focus Mitts. We would recommend it to you for the upcoming ring practice!