Do you have strength in your fist? Do you have a kick that can knock your opponent? If not, you should practice with punching bags and make yourself secure. Practicing will help you increase your strength and break your limits with our best heavy bag stands. Moreover, it will increase your fitness while improving strength by utilizing the bag for punches and kicks. You need a punching bag and stand but confused by so many options in the market.
But, Are you in a hurry? Here are few best brands based on the expert's opinion and top choices right now:
These are the best boxing heavy bag stands:
You don't need to worry anymore because we got the top 8 best heavy bag stands with reviews and a complete buyer's guide. These reviews will help you to decide what is best for you to select according to your requirements. We got the best quality stand; you need for beginners as well as professionals.
List of Top 8 Best Heavy Bag Stands Reviews in 2022
Features
It has a footprint of- 66.5 L x 47.6 W x 86.2 H inches
Supports any heavy bag up to 100 pounds
Have the ability to hold both heavy and speed bags
Comes with a weight of just 71 pounds
It is a simple, punching bag stand. You will able to use it indoor quite easily. The best part of it is that it has an adjustable height that is both kids and adults can use it. It has an adaptable height speed bag platform that handles all speed bag sizes as per your requirement. The steel body of this heavy bag stand is powder-coated for scratch resistance and durability.
It is the best and strong punching bag stand that resist the push by your fist and legs and does not fall due to its flat and measured base stand.
Pros
Have a warranty for 120 days
The package includes the detailed instruction manual
Holds both heavy and speed bags
Cons
Cannot support bags above 100 pounds
Not recommended for outside use
Features
Wall-mounted
The weight of this hanger is just 2 pounds
You can attach the hanger to a hunk of concrete or 12-inch wood wall
Capable of rotating for a 360-angle movement
Fix all size boxing bags
Ideal for home use
It improves safety as well as it is comfortable even during and after intensive boxing. This premium quality product made with heavy-duty steel with a red oxide that prevents rusting. However, It has been furnished with a black powder coating that is scratch resistant.
It is a compact heavy bag stand, a wall-mounted type of position, a universal design Ideal for home gyms & commercial gyms with heavy usage. The unique thing about this stand is that it comes with eight bolt points to fix in the wall for a secure and robust grip.
Pros
Have a warranty of 1 year with the 30-day return
The package includes solid steel, zinc galvanized chain for hanging bags
It is suitable for all sorts of ceiling hooks or brackets
Cons
Indoor use only
It cannot supports bags above 100 pounds
Features
Small heavy bag stand
Adjustable height settings
Low profile base design for a kick
Includes shock-absorbing heavy bag construction
It is a straightforward and heavy bag stand for home, a portable product that you can move anywhere quite easily. Not only adults but kids can also practice on them, as it is very easy for kickboxing. It looks cheap and a small bag stand, yet it provides all the benefits of a heavy bag workout.
Height is adjustable according to the requirement. Adjustable height allows multiple striking positions of kickboxing and can accommodate users of different ages, provides maximum durability by absorbing force, and reduce base movement.
Pros
Best for indoor and outdoor use
Suitable for both adults and kids
Adjustable height
Cons
No warranty but acceptable
Features
Heavy punching bag stands for professionals
It is assemblable and disassemblable
7.8 feet tall heavy stand for all heavy bags up to 350 pounds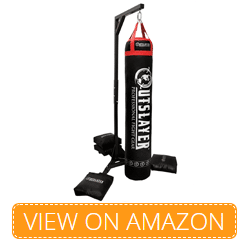 Outslayer Muay Thai Heavy Bag Stand is a heavy bang stand for kickboxing. The stand was manufactured at an advanced level to exert force, it does not move on high usage or at high effects of the kick as it includes four sandbags to weight down the station and so that it stays at one spot. This stand is capable of providing the right amount of clearance for all your kicks.
It is assemblable and disassemblable in case if you want to pack it up and shift so quickly. The best heavy punching bag stand comes up with seven screw assemblies and four bags, you can fill with sand to weigh the stand down. The sandbags will weigh 60 pounds each. It got three legs that are 4 feet away from each other in a triangular pattern. Each leg is 30 inches long, and an additional extension of 42 to 45 inches is also available.
Pros
Comes up with one year of warranty
Suitable for professional kickboxers
Heavy base stand
It supports all size heavy bags up to 350lbs
Features
Adjustable and able to hold any size speedball
24-inch diameter
The kit comes with everything pictured
The new design includes a large speedball
It has a professional-grade design. This speed bag platform is exceptionally well-built. This heavy bag stand is best for individual needs. Height is adjustable as per your requirement. It is best for people who want to practice a flying kick. It can swivel at 360 degrees, has a 24-inch diameter with 1.5 inches length. Its base is of the thick board that may be fixed on the wall for stabilization. The heavy punching bag material is made of premium synthetic leather.
It comes with a Kit that includes: speed bag of 10″ x 7″ and a speed bag swivel. You can fill bags with a pump included in the kit. Unfortunately, the wall mount hardware is not included, but you can get it separately quite quickly.
Pros
Heavy speed punching bag included with the kit
Suitable for high kickboxing
Adjustable height
Cons
No Warranty but that is okay, product is amazing
Features
Design for kids, easy to play
Adjustable height to accommodate multiple children
Portable product
It includes a free inflation tool.
Both outdoor and indoor usage
Lightweight
It is the best punching bag stand for kids. It has an adjustable height from 35″ to 47″, recommended for ages 3 to 7. The base is made with Plastic to reduce scratching of floors that has a built-in spring action connector for rebounding action force when pushed. The base can be filled with 15 lbs of sand or water for more stability and does not move like water.
It helps your kid to increase strength and overall fitness. High performance and hand, eye coordination will grow your kid smart and active. The set includes a pair of kid's boxing gloves. Tools for setup and an inflation pump to make your punching bag ready and play.
Pros
Compact punching bag stand with a free kit
Lightweight and portable
Adjustable height
Cons
It is a made of plastic material that needs to be taken care of
Features
Installed with four springs significantly reduce shock
It is best for professional training (by removing absorption springs)
Best Free Standing Punching Bag
Sturdy and stable
High-quality heavy kickboxing bag stand
Dprodo is the best heavy bag stands for kickboxing. It can work in any indoor place such as home, gyms, and offices. The heavy kickboxing stand is approximately 175cm tall. Great adults and teenagers who are 4 to 6 feet tall.
Its made up of stainless steel stand in multilayer construction includes four springs that significantly reduce shock when pushed and also absorbs noise so you can feel comfort and fast boxing. The springs can also be removed for less vibration, which helps to do fast and strengthen practice. The round base tank is made with Plastic for easy relocation. The base is installed with 12 suction cup that holds on the floor strongly. The base can be filled with sand for down stability. The product is packed in two pieces and can be assembled easily.
It's manufactured to withstand a significant amount of abuse during training. For those who are serious about training in sports that involve kickboxing and punching and other methods of striking the opponent, then this is the best option to buy. It is the best heavy bag stand for stress buster and strength builder.
Pros
It comes with a warranty of 1 year
Heavy kickboxing bag stand with round base easy to relocate
The adjustable height as per your need
It has four springs for reducing shock and noise absorption
Spring can be removed for intense strength training
Cons
Heavy and significant product
Features
Boxing Chain is Free turning, solid steel swivel for comfort and durability
Beam Hanger is a High-grade Steel Material that can hold up to 150lbs
Boxing Chain has four hooks to hold your heavy punching bag securely
It includes all the nuts and bolts needed for installation
Yes4All is a heavy-duty boxing chain that a van holds a heavy punching bag. It has a solid hanger that is constructed with steel and covered with enamel coating for more durability. Due to enamel, it is corrosion resistant but can be fixed in a wooden beam or drilled into concrete.
It is a brilliant product that swivels very smoothly without stressing the ceiling, includes a massive 4 side chain with hooks that can securely hold heavy workout bags. This indoor product can be used at homes, gyms, or clubs. Great for all size heavy punching bags.
Pros
One year warranty and 30-day return
It is a reliable but small and smart product
Rustless, steel swivel, and zinc galvanized
Cons
Once installed, challenging to relocate
Best for indoor use only
Best Boxing Heavy Bag Stands in 2022 – Buyer's Guide
If you are a beginner, then while choosing the best heavy bag stands, you should keep your requirements in your mind.
First of all, your primary concern is towards punching or kickboxing, or both. For punching, small punching bags are usually used for punching practice, and as they are round in shape, so they help to improve targeting on the opponent's face. And If you want to practice kickboxing for primary training, then Large and tall boxing bags are the best approach to improve kickboxing. As they are hard and long, just like a human being as your opponent in front of you.
The product you are going to buy should be at most 3.94in/10cm lower than your height. Its recommended that kids should choose slightly higher boxing bags; as they grow, the product will get smaller for there use.
Before buying, most check that where the product is going to install, whether on rook or walls, or will be just placed on the floor and buy accordingly.
Our Top Pick in 2022
From all the mentioned heavy bag stands, it is difficult to choose the best product. But there is one that can be rated top. It is an incredibly high professional heavy bag stand that has advanced features.
After considering all the features of the heavy bag stand,
Dprodo Heavy Punching Bag with FreeStand
is the best pick up as a top-rated heavy bag stand considering its fantastic construction and advanced features.
Two main features are:
Its 4-spring mechanism significantly reduces shock and noise absorption. It can give you better strength practicing and minimize the chance of shock to your wrists and breaking your hands.
Springs can be removed for less vibration to do intensive strength training when you want to practice hard and rough with your opponent.
FAQs
1. How do I choose boxing bags?
The product you are buying should be at most 3.94in/10cm lower than your height. It's recommended that kids should choose slightly higher boxing bags for long-term use.
2. How I move the whole assembled kick bag?
Before relocating your heavy boxing bag stand, insert something thin and hard (like playing cards, ruler, bank card) into one suction cup of the product to dissipate suction and so on with the other cups. And then move your heavy boxing stand.
3. What boxing bag is suitable for punching?
Small punching bags should be used for punching practice, and as they are round in shape, so they help to improve targeting on the opponent's face.
4. For the ABS tank base, fill with water or sand?
Sand is better because it is denser and does not wet your product if it gets leaks from the tank and does not make a smell. On the other hand, water will make everything wet and keeps on leaking from the tank. And water may give off an unfavorable smell if it stays in the tank for a long time.
5. What boxing bag is suitable for kickboxing?
Large and tall boxing bags are the best approach to improve kickboxing. As they are hard and long, just like a human being as your opponent in front of you.